This guide, originally created to promote "How to Explore the Outdoors While Physical Distancing", is a comprehensive overview of the beautiful trails we have in Oneida County. While reading through the guide, you might think of exploring in spring, summer and fall, but don't stop there! You can also hike, cross country ski and snowshoe on many of these trails in the winter months. So embrace your adventurous side and check out these gorgeous spots in Upstate, New York!
This list kicks off with a unique park system in Utica, literally within city limits. This past year, we started working more closely with Central New York Conservancy. Their goal is to, "preserve and enhance the natural environment and features of current or historical significance through design, promoting the widest possible range of beneficial uses." We've learned a lot about the history of Utica's Park System which were designed by the Olmsted Brothers Firm (future blog!). Part of this system contains Roscoe Conkling Park/Valley View.
Valley View Golf Course Trails (Utica) – Park at Valley View's parking lot and head onto one of the trails. You can walk through the course on a cart path before you hit the main road (Master Garden Rd.) that goes through the course or you can walk up Valley View Rd. until you hit Steele Hill Rd. This will take you the long way around Valley View and is part of the Boilermaker route.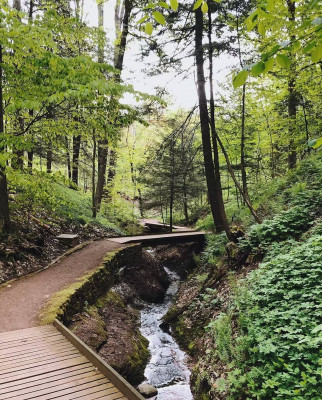 South Woods Switchbacks (Utica) – This can be reached from Steele Hill Rd. or Master Garden Rd. There are parking spots at the bottom of the switchbacks but people frequently walk from Valley View Golf Course or the Eagle. This path is peaceful and includes switchbacks which are popular for running, walking, biking and more. There are even fitness stations within it! Towards the bottom is a picnic pavilion area that the public can use for grilling and picnics.
Forest Hill Cemetery (Utica) – I'm adding this in because it runs adjacent to some of the above-mentioned paths. Lately, I've been walking through Valley View Golf Course, up Master Garden Rd. to the top by the Eagle statue. At the bottom, you'll find the entrance to the cemetery. While it may seem a bit odd, this cemetery is beautiful and has paths perfect for walking.